StMS Coronavirus Updates

(Last Updated 12/01/20 at 12:32 p.m.)

2020 HOLIDAY UPDATE:
The CDC is advising families to stay home for the holidays, and we ask that St. Michael School families take this recommendation seriously. If your family does decide to travel or attend a large family gathering, please follow the CDC safety guidelines in order to protect yourselves and those you love, including our St. Michael family:
- Quarantine and isolate as much as you can before the holiday.
- Test for COVID-19 before you travel and test when you return home.
- Always wear a mask and practice social distancing when you are gathering with others outside your core family.
- Wash your hands frequently and continually sanitize your surroundings.

StMS supports the recommendation to quarantine your child at home before and after traveling, particularly if anyone in your household is experiencing COVID-19 symptoms until a negative test can be produced. Distance Learning opportunities and materials are specifically available for students who have either been potentially exposed or who are quarantining for two weeks out of an abundance of caution, but DL materials are not necessarily available when a child is absent for a couple of days. We appreciate you showing care for others and modeling for your children that Other People Matter.
Please refer to the most up-to-date NC Department of Health and Human Resources Summary Tool for scenarios and guidelines on when a student may return to school after being exposed or testing positive for COVID-19. Parents may also contact us at nursegroup@stmcary.org for assistance, in addition to speaking with one's pediatrician. If there is ever a time to be overly conservative and careful, it would be now during the holiday season! It is critically important that each StMS family keeps every faculty member and school family in mind when they're on campus and off, as we collectively pursue the goal of keeping all families healthy and our parish school open. Now is the time to be very purposeful with how we show care for others, for #OtherPeopleMatter.

Please just let us know of your intentions to quarantine so our teachers and staff can prepare appropriately. Contact us via email at nursegroup@stmcary.org and copy admininstrationgroup@stmcary.org and your child's teacher as well. We want to keep all our children in school, but we need your help to keep our entire StMS community healthy!
July 23, 2020 - St. Michael Catholic School's Plan to Return to Campus in Plan B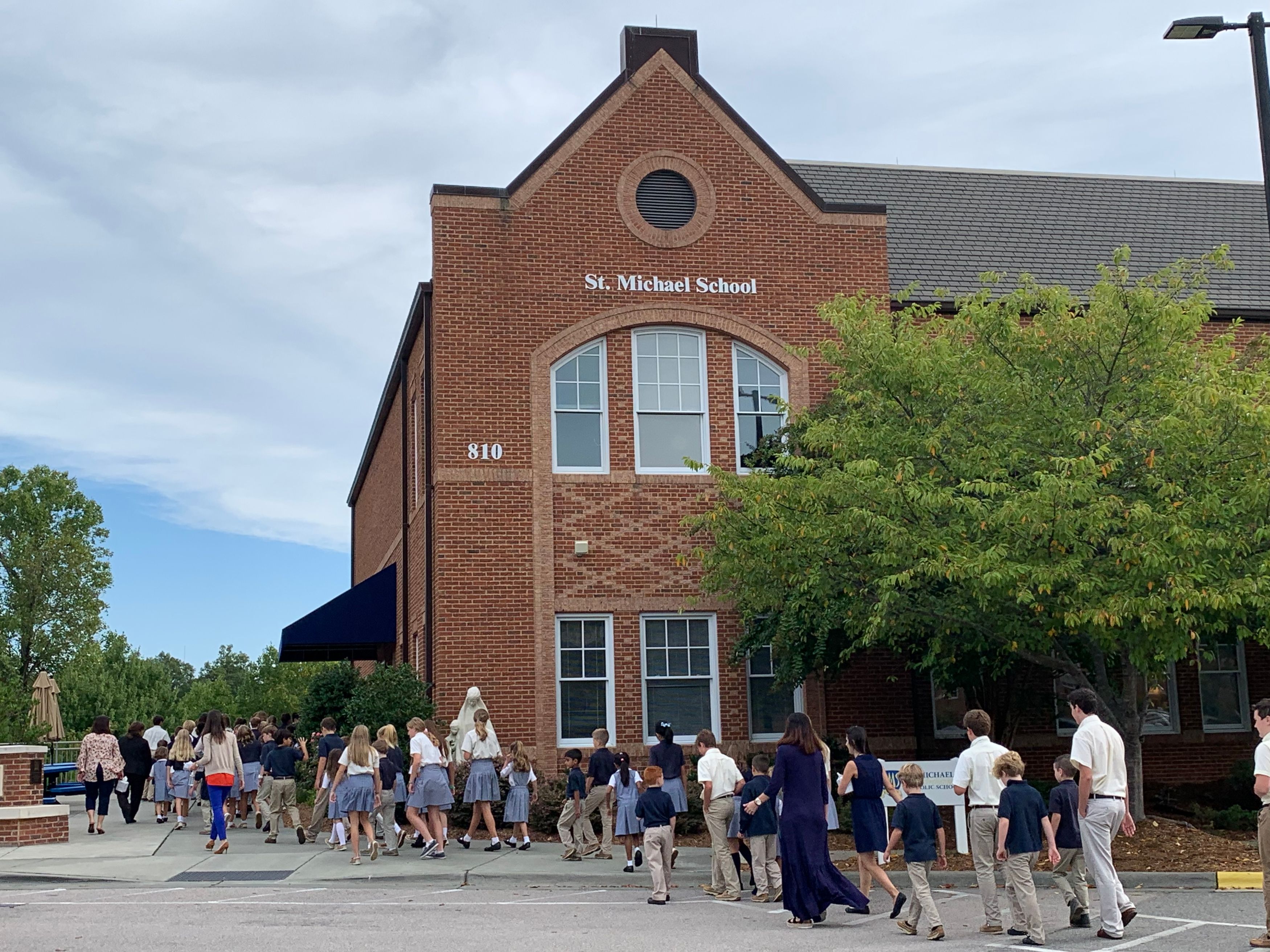 St. Michael Catholic School's plan for the 2020-2021 school year - updated as of July 24, 2020 - and provides detailed information how we plan to safely welcome our community back to on-campus learning. While it will certainly look much different than years past, we plan to honor the same beliefs, traditions, culture, and community that make StMS a special place. We believe "excellence happens on purpose," and we want you to know that we are following the directives of the Diocese of Raleigh and Bishop Zarama, as well as the guidance and recommendations from the NC Department of Health and Human Services (NCDHHS) and the Governor's office.
The public health response to the COVID-19 pandemic is an ever-changing situation, so we are doing everything in our power to create a safe, welcoming environment for instruction and learning. Our current planning is based on what we know and what we can control, while remaining flexible and accommodating. Each of the plans outlined below is built to minimize risk while continuing to offer a high-quality educational experience, acknowledging that no school can completely eradicate that risk. Since we believe that other people matter, we understand that different families will have different perspectives depending on their individual circumstances. In each plan below, we hope to offer grace and flexibility to all families, since the needs of every StMS family is important to us.
Regardless of which plan will be implemented in August, School Administration will host optional orientation meetings - prior to the first day of school - in hopes to clarify expectations, answer any questions, and gather as a community. As recommended by the NCDHHS, St. Michael School is moving forward with Plan B, as guided by the Diocese of Raleigh.

View the detailed St. Michael Catholic School's Plan to Return to Campus in Plan B